The WTA Rising Stars Invitational kicked off the 2015 BNP Paribas WTA Finals Singapore presented by SC Global along with the U14 and U16 WTA Future Stars players, who played their round robin matches.
Zhu Lin defeated Ons Jabeur, 4-1, 4-2, while Caroline Garcia bested Naomi Osaka in an entertaining 4-1, 1-4, 4-1 match. Tomorrow, Osaka and Jabuer will begin play at OCBC Arena, followed by Garcia vs. Zhu. You can catch the matches free on wtafinals.com or if you download the 2015 WTA Finals App created by SAP, where the link is at the bottom of the page.
The 2015 WTA Future Stars players started and completed their round robin matches, with the Gold and Silver draws set after the day of play.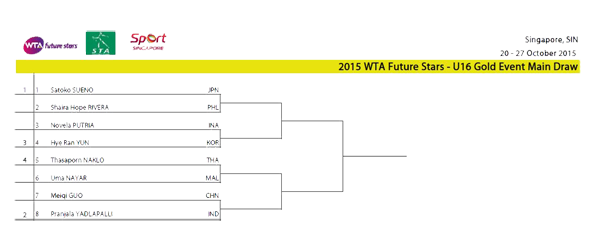 Results - October 22, 2015
WTA Rising Stars Invitational
Zhu Lin d. Ons Jabeur 4-1, 4-2
Caroline Garcia d. Naomi Osaka 4-1, 1-4, 4-1

WTA U16 Future Stars Event
Shaira Hope Rivera d. Charmaine Seah 6-4, 7-6(3)
Yee Loon Goh d. Avril Look 6-1, 0-6, [10-6]
Uma Nayar d. Charmaine Seah 6-3, 6-2
Pranjala Yadlapalli d. Tru Phuong Ngyuen 6-0, 6-1
Ya-Yun Pai d. Tru Phuong Ngyuen 6-0, 6-1
Pranjala Yadlapalli d.Ya-Yun Pai 6-1, 6-4
Sataka Sueno d. Hour Sreypov 6-0, 6-0
Mahika Rana d. Hour Srreypov 6-0, 6-1
Sataka Sueno d. Mahika Rana 6-0, 6-0
Thasaporn Naklo d. Yee Loon Goh 6-1, 6-4
Shaira Hope Rivera d. Uma Nayar 6-3, 2-6, [15-13]
Thasaporn Naklo d. Avril Look 6-3, 6-2
Novela Putria d. Kay Amphone Xayalath 6-0, 6-0
Meiqi Guo d. Kay Amphone Xayalath 6-0, 6-0
Novela Putria d. Meiqi Guo 6-1, 3-6, [11-9]
Hye Ran Yun d. Monique Burton 6-3, 6-3
Ashleigh Harvey d. Monique Burton 6-2, 6-7(3), [11-9]
Hye Ran Yun d. Ashleigh Harvey 6-3, 6-1

WTA U14 Future Stars Event
Jiayu Chu d. Tessa Wong 6-1, 6-1
Miles Vitaliano d. Thuc Tran 0-6, 7-6(1), [12-10]
Fitriana Sabatini d. Tammy Tan 6-0, 6-1
Mahak Jain d. Ira Rawat 6-1, 6-1
Yi-Tsen Cho d. Chiara Di Tommaso 6-4, 6-1
Mahak Jain d. Pabou Phothisomephone walkover
Fitriani Sabatini d. Da Yeon Baek 6-2, 6-2
Ira Rawat d. Pabou Phothisomephone 6-0 2-0 retired
Yi-Tsen Cho d. Brooke Kenny 3-6, 6-4, [10-4]
Mana Kawamura d. Thuc Tran 6-0, 6-1
Cody Wong d. Tessa Wong 6-2, 6-1
Mana Kawamura d. Miles Vitaliano 6-1, 6-0
Brooke Kenny d. Chiara Di Tommaso 6-2, 6-3
Da Yeon Baek d. Tammy Tan 6-2, 6-2
Jiayu Chu d. Cody Wong 7-6(5), 1-6, [10-4]
Sara Nayar d. Ho Sreynoch 6-0, 6-2
Punnin Kovapituked d. Ho Sreynoch 6-0, 6-0
Punnin Kovapituked d. Sara Nayar 6-3, 5-7, [10-4]

Order of Play- Friday, October 23, 2015
CENTRE COURT start 9:00 am
U14- Mana Kawamura vs. Cody Wong
U16- Sataka Sueno vs. Shiara Hope Rivera

COURT 1 start start 9:00 am
U14- Yi-Tsen Cho vs. Fitriani Sabatini
U16- Novela Putria vs. Hye Ran Yun
Coaches Clinic

COURT 4 start start 9:00 am
U14- Punnin Kovapituked vs. Sara Nayar
U16- Thasaporn Naklo vs. Uma Nayar
Coaches Clinic
COURT 5 start start 9:00 am
U14- Jiayu Chu vs. Mahak Jain
U16- Meiqi Guo vs. Pranjala Yadlapalli
Coaches Clinic
COURT 10 start start 9:00 am
U14- Miles Vitaliano vs. Da Yeon Baek
U16- Yee Loon Goh vs. Mahika Rana
Coaches Clinic
COURT 11 start start 9:00 am
U14- Brooke Kenny vs. Ira Rawat
U16- Ya-Yun Pai vs. Ashleigh Harvey