Wimbledon marks a crucial juncture in the 2015 Road to Singapore standings. Picture a fork in the road with an adjacent sign that reads "Pretenders to the left, contenders to the right." With the BNP Paribas WTA Finals Singapore presented by SC Global less than four months away, players with Singapore ambitions will need to make the most of the two remaining Slams on the calendar—especially those who find themselves on the outside looking in.
Ten outsiders currently sit within 1000 points of the eighth and final spot in the RTS Leaderboard, and while it may seem like a great divide, recent history tells us that there will likely be some upheaval in the top eight before October 25th rolls around.
Over the last five years, a total of eight players who were on the outside looking in at Wimbledon have made late qualifying runs to reach the WTA Finals, including two last season. Caroline Wozniacki was languishing in 23rd place in the RTS Standings, 1146 points behind 9th-place Jelena Jankovic at this time last year*, and Petra Kvitova was 964 points back, in 16th place.
Both turned on the afterburners and rode magical second halves to qualify. For Kvitova, it all started with her Wimbledon title run.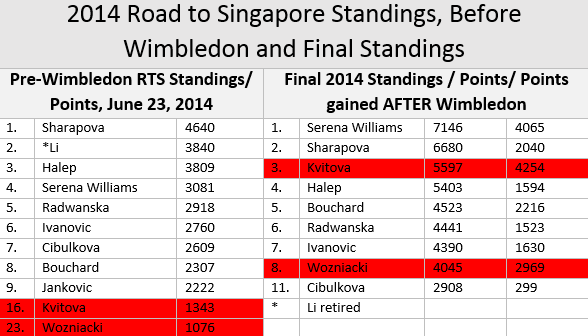 With their 2014 exploits, Kvitova and Wozniacki joined a select group of women who have engineered a post-Wimbledon run up the RTS Standings in the last five years. Who could forget Vera Zvonareva's magical 2010, which saw her enter Wimbledon at 18th and finish the race 2nd after reaching the final of the year's last two majors? Kim Clijsters (2010), Li Na (2012) and Sam Stosur (2011) are among the others who have accomplished the feat.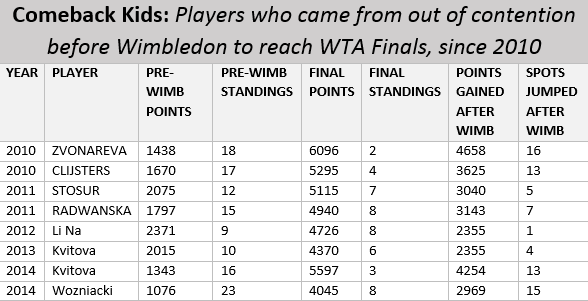 Who will be this year's comeback kid? Is she already within striking distance or will she come from the back of the pack to shock the world? Will there be more than one?
Here are five candidates that have what it takes to make a run:
Victoria Azarenka (RTS: 20) : Currently more than 1,000 points behind 8th-place Angelique Kerber, the five-time qualifier will need to stay healthy to make up the gap, and that has been difficult for Azarenka of late. But if she finds her form she's more than talented enough to leapfrog a great swath of her competition.
Agnieszka Radwanska (RTS:23) : Radwanska is in danger of creating an impossible situation for herself if she disappoints at Wimbledon, but given her talent level and the fact that she has experience on her side, there's still some time for the Pole. In 2011 she came from 15th at Wimbledon all the way to 8th by the end of the season. Judging from her vastly improved form on grass this season, where she's gone 6-1 thus far, Radwanska's late push could start at Wimbledon.
Caroline Wozniacki (RTS:10) : Less than 500 points out, and hungry to reach her first career Wimbledon quarterfinal, Wozniacki is another player that could help herself with a strong performance at SW19. If she does, the Dane could be a virtual Singapore lock, given her hard-court prowess and her ability to stay healthy and achieve consistent results all season long.
Timea Bacsinszky (RTS:9) : It has been a dream 2015 for Bacsinszky, and what better way to complete the dream than to end the year with a well-deserved trip to Singapore?
Ana Ivanovic (RTS: 12) : Ana broke through to reach her first Grand Slam semifinal in seven years at Roland Garros. Will that near miss spur her to even greater heights this summer?